C.S. Lewis and the Tenth
The uncle of the first Scoutmaster, Harry Keown, was a man by the name of Albert Lewis who, after his marriage in 1894, rented Dundela Villas from Thomas Keown, Harry's father.  (The Keowns were then living in Duncairn Gardens.)  Albert and his wife Flora settled at Dundela Villas and their two sons were born there.  Clive Staples Lewis arrived on 29 November 1898.  A first cousin of Harry Keown, he was to become known to children the world over as the author of The Lion, the Witch and the Wardrobe and the other Chronicles of Narnia.
Commemorative plaque at Dundela Flats, built on the site of Dundela Villas, birthplace of C. S. Lewis
Dundela Villas, from whose nursery windows C. S. Lewis first glimpsed Narnia in the shape of the Castlereagh Hills, and in whose stables the 10th Scouts found their first home, were demolished in 1952 to make way for flats.  Harry Keown had sold his half of the building in 1938, a few years after his father's death.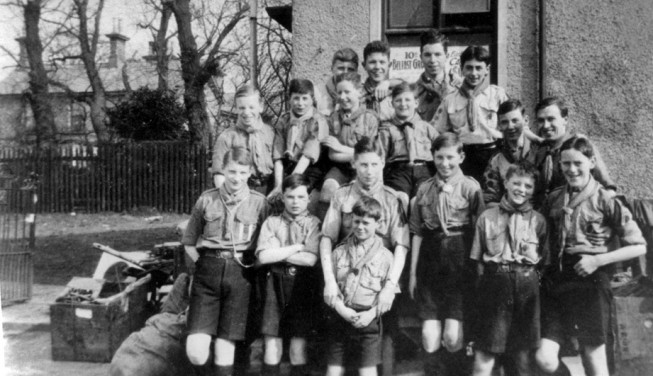 On the left of this picture of the Scouts setting off for Easter camp in 1929 is perhaps the best surviving image of Dundela Villas
By the 1940s, C. S. Lewis was a famous Christian writer and broadcaster.  David Bleakley (a 10th boy in the 1930s and 1940s) recalled that at the Scouts' Own – when the Troop met on Sunday afternoons to sing hymns and discuss religion – Harry Keown would occasionally produce a letter from his cousin to get the talk going.  David was later one of Lewis's students at Oxford.  He became a noted Christian thinker in his own right and a Member of the Northern Ireland Parliament.  To mark the centenary of C. S. Lewis's birth in 1998, he compiled a book on his Irish background.  David happened to be with the Tenth on the very day that C. S. Lewis died, 22 November 1963:
...we in the 10th Scout Group were having a special conference in the Scout Hall and talking about times past when Lewis lived on the site.  On that same evening we heard of President Kennedy's assassination.  They say that we always remember where we were when J.F.K. died.  We in the '10th' have a twofold memory of that sad evening….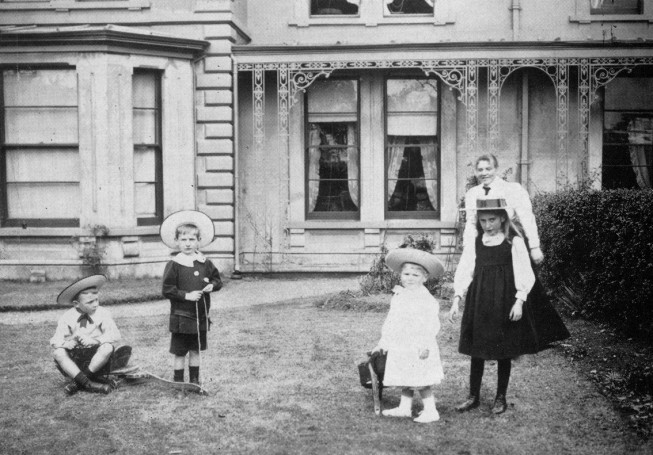 C. S. Lewis (third from the left) in Dundela Villas garden, 1901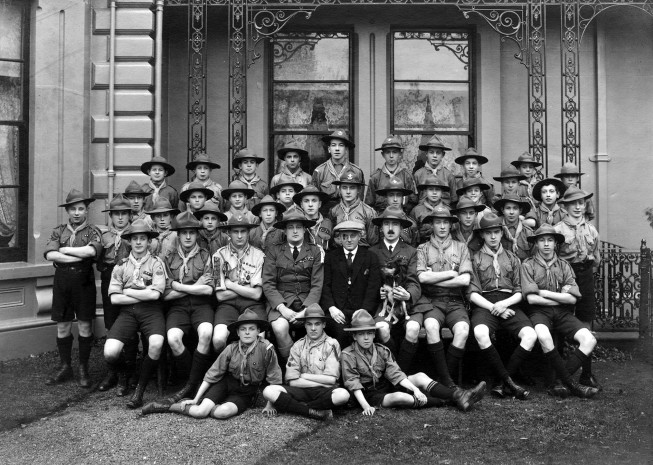 The Troop in the same spot twenty years later